Eagles maximize RB value with Rashaad Penny, D'Andre Swift additions
Ralph Vacchiano
NFC East Reporter
The Philadelphia Eagles could have tried to move up in the draft and pick one of the most electric running back prospects to come out in years. They could have spent the money to re-sign their own running back who ran for nearly 1,300 yards last season.
Instead, they left themselves with a four-back committee led by two injury-prone players, none of whom have rushed for more than 750 yards in a single season and none of whom topped 550 yards last year.
And yes, because of their passive approach to the running back position, they are much better off.
Howie Roseman is right — a phrase that's been said a lot this offseason, but one that really applies to how he approaches the running back position. In an era where the perceived value of running backs has seemed like a roller coaster at times, where the beauty is in the eye of the checkbook holder, he has been firmly in the camp of those who simply won't make a significant investment in a position where the players have a very short shelf life.
[Philadelphia Eagles 2023 schedule, predictions for wins and losses]
He smartly would rather put his cap money where it matters — particularly in what has become one of the NFL's best offensive lines.
"I feel like it starts with the O-line," Roseman explained after the NFL Draft, when asked about his philosophy on positional investments. "Obviously for us, that's where it starts. We have a tremendous O-line. We have tremendous coaches. When they put the game plan together, giving our runners a chance."
So here's his bet for 2023: Rather than bring back Miles Sanders, who ran for a career-high 1,269 yards and 11 touchdowns last season, or move up in the draft to grab the dazzling Texas running back Bijan Robinson who went eighth overall to Atlanta, Roseman figured he'd just find a way to figure it out. He pulled veteran running back Rashaad Penny out of the free-agent bargain bin. Then on the third day of the draft, he traded a fourth-round pick to Detroit for running back D'Andre Swift.
Is the backfield of Swift and Penny (joined by returning Eagles Kenneth Gainwell and Boston Scott) going to do better than Sanders did last season? Do they have more potential than Robinson? The answer to both is probably not. Yet the Eagles still made the wise move to take their chances with potentially lesser players.
Philly the class of the NFC?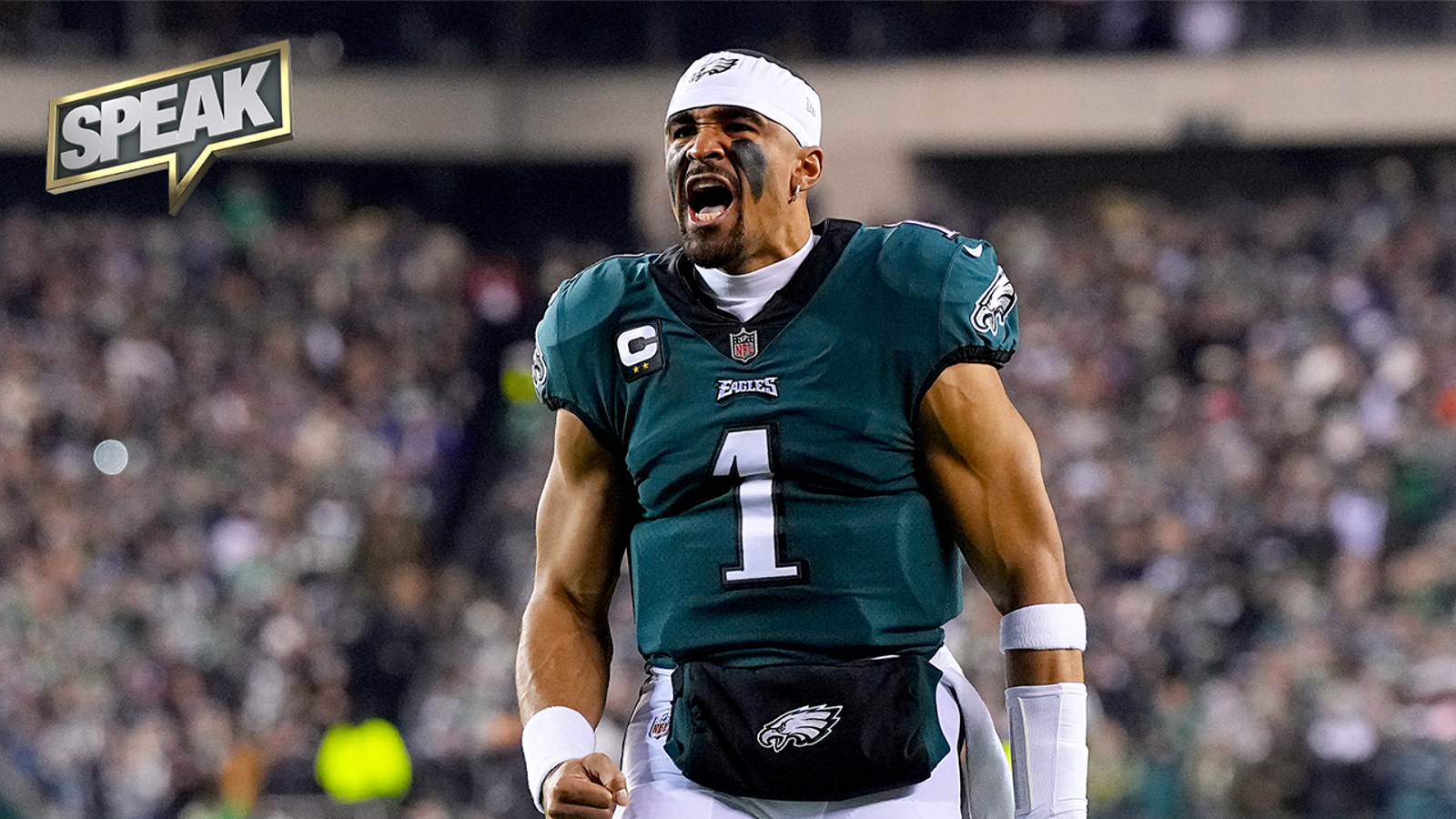 The SPEAK crew debates if the Eagles have separated themselves in the NFC with their offseason moves.
The reason is in the math.
Sanders — who got a four-year, $25.4 million contract from Carolina — would've cost them $7 million this season and a guaranteed $13 million over the next two. Had the Eagles somehow been able to get Robinson with the 10th pick of the draft he would've cost $13 million in salary and signing bonus this year and they would've been on the hook for about $22 million guaranteed over the next four years.
That's a lot of money for a position where players take a beating and tend to wear down quickly. And it's a risky investment no matter how creative a team is with the cap. Meanwhile, Swift and Penny will cost the Eagles $3 million in the 2023 season and neither of them are signed for 2024. The Eagles' entire four-man backfield will cost a little more than $6 million for the year.
If they stay healthy — admittedly a significant "if" — Swift and Penny are surely good enough to at least combine to equal Sanders' production from last season. And they'll do it for a whole lot less.
And that's really what it's all about at the running back position — or at least what it should be about. Sure, every team would love to have a Saquon Barkley or a Christian McCaffrey. Their elite-level talents are undeniable. But buyer beware. Barkley — who'll play on the Giants' franchise tag this season for $10.1 million — has had two (and really three) of his five NFL seasons ruined by injury. And after McCaffrey signed a blockbuster, fourth-year, $64 million contract with the Panthers, he played just 10 games over the next two years.
Why make that kind of an investment in a running back when a team can get good production out of the position while investing much less?
That's the Eagles' philosophy. They've invested huge in their quarterback, Jalen Hurts, and in his receivers. They've put a focus on the offensive line which has powered one of the best running games in the NFL no matter who is carrying the ball behind them. Sanders was a second-round pick (in 2019), which was the Eagles' biggest investment in a running back in about a decade.
Eagles in the spotlight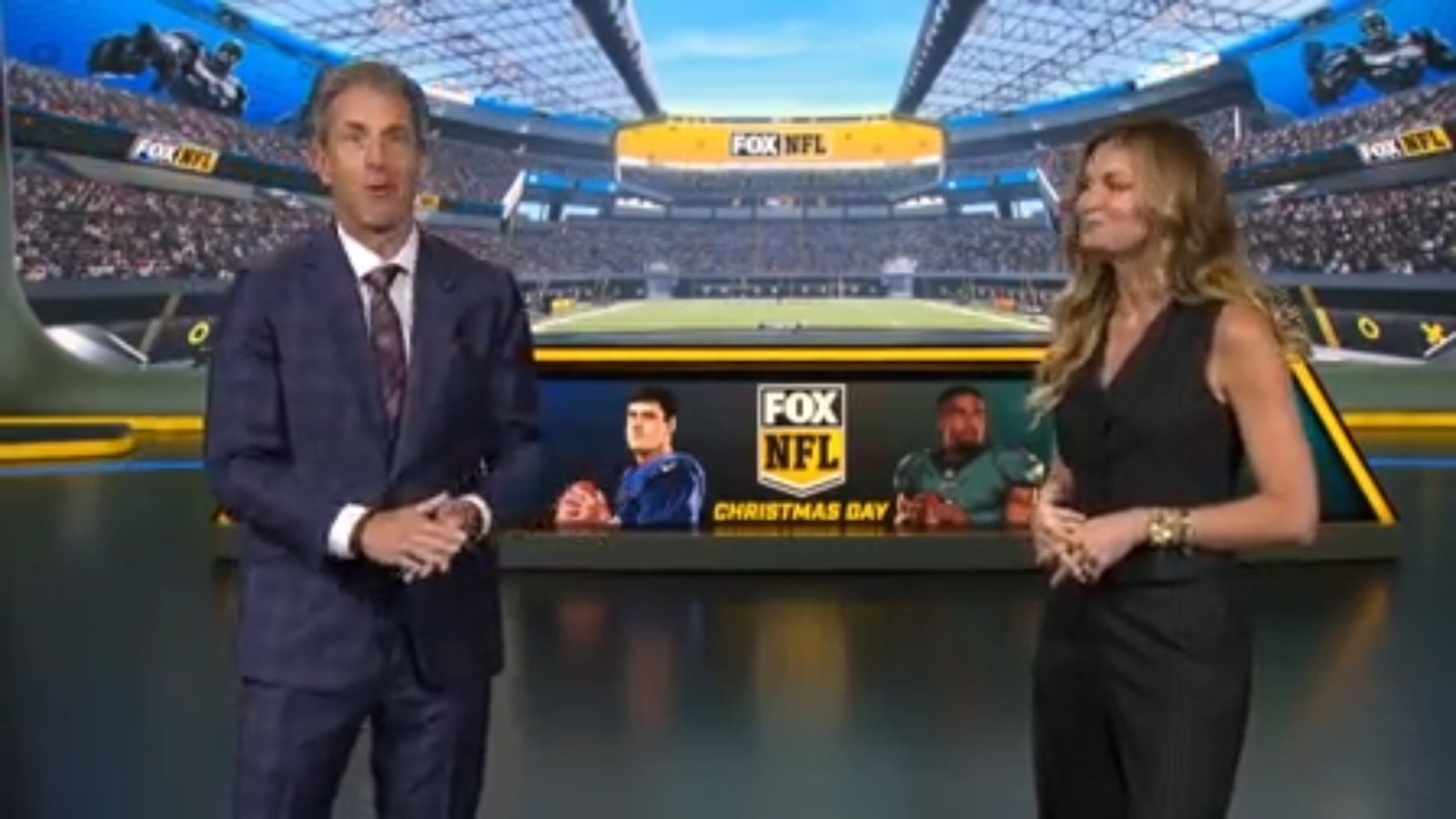 Kevin Burkhardt and Erin Andrews announced two big matchups for FOX NFL this season, including the Giants vs. the Eagles on Christmas Day.
But was his success last season about him, or more about the offensive line?
The Eagles clearly believe it's all about the line. And they're fine with putting players like Penny and Swift behind it. Roseman called them "talented guys who have been successful" and he's right. Penny had 749 yards in 2021 despite missing nearly half the season with a calf injury. He ran for 151 yards in Week 4 last year, one week before he broke his leg.
As for Swift, the Eagles saw his talent up close last season when he nearly wrecked their season opener in Detroit by ripping through their defense with 15 carries for 144 yards.
"You can definitely see his ability to make people miss in space, and you saw that against our defense last year," Eagles coach Nick Sirianni said. "He had some unbelievable runs against us last year, where you look at each other like 'Man, that guy is hard to tackle.'"
And with the space he'll get running behind that massive, powerful Eagles' offensive line, he could be even better. He gives the Eagles the added dimension of having a running back who can help in the passing game, too. And with Swift and Penny working in tandem and leading a committee, maybe there's less of a chance they'll wear down as the season goes along.
Add in the financial part and it's just a better, safer investment than spending all that money on Sanders or drafting a running back in the first round. And that will be true even if Robinson ends up as the NFL's Offensive Rookie of the Year or Sanders pops off for another 1,300 yards.
That's a truth that most NFL teams understand, and others are starting to learn. Running backs — most of them — just aren't worth a big, long-term investment. And they're definitely not worth it for a team like the Eagles who can make any running back look good behind that line.
"We really are happy with our running back room," Sirianni said.
He should be. Maybe they don't have the most talented players in it. But they just might have the best value, and there's a good chance they'll get a lot of bang for very few bucks.
Ralph Vacchiano is the NFC East reporter for FOX Sports, covering the Washington Commanders, Philadelphia Eagles and New York Giants. He spent the previous six years covering the Giants and Jets for SNY TV in New York, and before that, 16 years covering the Giants and the NFL for the New York Daily News. Follow him Twitter at @RalphVacchiano.
FOLLOW
Follow your favorites to personalize your FOX Sports experience
---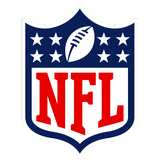 Get more from National Football League Follow your favorites to get information about games, news and more
---